Community Articles
---
Dick Whittington, Stinchcombe Village Players - January 2010
This season's pantomime is Dick Whittington from the Stinchcombe Village Players
---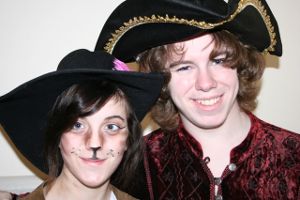 This season's pantomime Dick Whittington from the Stinchcombe Village Players, is the story of a courageous man, a clever cat, an evil King Rat, a charming girl, a spoilt princess, a pirate, a king, another pirate, a Bruce, another rat, a Dame, a WPC, another princess, a Sheila, an Alderman, a cast of thousands of rats and quite a few cats . . .
Performances are on Friday 29th January at 7.30pm, Saturday 30th January at 2pm and 7pm. Tickets are £5 each, available from D Cole Supplies (Cole & CO UK Ltd) 22a Long Street, Wotton-under-Edge and by calling 01453 544611.
Directed by four-panto veteran, Janet Bartlett, the script is an adaptation of Tony Domaille's original Dick Whittington, previously performed in Thornbury. Janet says: "It's a delight working with such an enthusiastic and talented cast. I'm sure the audience will have as much fun as we do."
The annual get-together of children and adults from in and around the village of Stinchcombe, near Dursley, provides another platform for singing, dancing, storytelling and all things sensational and silly in true pantomime tradition. The Dick Whittington storyline is given an added twist with the inclusion of kidnapping pirates, an adventurous woman police officer and a couple of Australian naturalists (with pretty bad accents).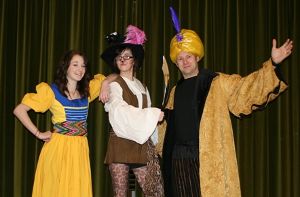 Adult Stinchcombe stalwarts Richard Bartlam (Dame Gertie) Andy Hamilton (King Rat) Paul Bartlett (Alderman) Graham Brown (Bruce) and Jim Cole (Sheila) are supported by younger lead characters from Katherine Lady Berkeley School: Alex Newport (Dick Whittington) Lucy Timbrell (Cat) Tilly Myers (Alice) Robyn Ralston (WPC Peachy) Dan Langley (Pirate) and Sebastian Hamilton (Pirate).
Making their panto debut as the two demanding, chavvy, young, princesses are future stars Mickey Wilson and Isabel Zedda, who complicate life for Wotton newcomer John Wharton as the King of Tropicana.
For further information, Email: acherreson-cole@sky.com or call 07747 025683 or Email: nolabradley@hotmail.com or call 01453 544611
---
Did you know that you can contribute stories, articles, photographs, pictures, drawings, and poetry to this website?
Send us an email for more information. We'd love to hear from you!
Search for it!