Community Articles
---
Wotton's cinema gets the Red Door treatment
Volunteers at the Wotton Cinema have received training in customer services
---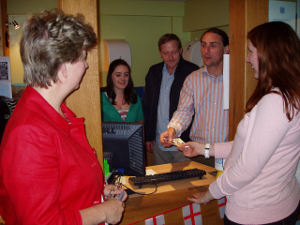 Volunteers at the cinema in Wotton-under-Edge, Gloucestershire have received training in customer services from Red Door Coaching and Training Ltd which is based in Charfield. The training was organised as part of the Cinemas continued expansion and pursuit of ever better service.
The cinema's PR and Marketing Manager Catherine Dall'Occo said: "We decided to take advantage of a government scheme where qualified grant supported training is available to small businesses. I am one of only three paid part time staff at the cinema and I work alongside a very professional and committed volunteer force. While the volunteers are not paid for their time, it is still important to be able to offer them training if they would like it. We pride ourselves in having very good customer relations and the training adds substance and will enable us to confidently deal with the occasional problem that might occur."
The training was a mix of open discussion and coaching along with some role play and was provided by Red Door as part of a scheme operated by the Learning and Skills Council's Leadership and Management Advisory Service. The scheme is available to any businesses with between five and 249 staff (including volunteers) and provides an initial grant for training and development of staff and further grants are available in some circumstances.
Red Door Director Tracy Francksen said: "The cinema has got in just in time for the grant related training. We haven't had any confirmation yet but the indicators are that the scheme is going to be axed as a result our new Government's promised budget cuts. At the moment it isn't too late for other businesses to apply for similar funding but they will have to hurry. It really is a gift. If a small business wants to conduct staff development of any kind and improve on skills such as customer services, marketing or leadership and management then this is too good a chance to miss."
Catherine D'Allocco added: "This training has given our volunteers the skills and confidence they need to handle the occasional difficult situation and will be of use both in the cinema and in their private lives outside. Hopefully some of them will consider becoming supervisors with their new found confidence."
---
Did you know that you can contribute stories, articles, photographs, pictures, drawings, and poetry to this website?
Send us an email for more information. We'd love to hear from you!
Search for it!