Community Articles
---
One year at Wotton's Royal Oak
Regulars at The Royal Oak Inn in Wotton-under-Edge have been celebrating the first anniversary of the current licensees.
---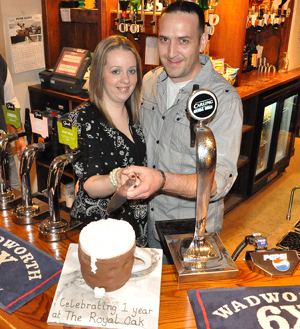 Landlady Emily Nash and her partner, Chef Nick Boston moved to Wotton from The George in Backwell, North Somerset not long after they won the 'Best Value for Money' category in the Bristol Evening Post's Pub of the Year Awards in 2009.
Emily has no regrets about the move. She said: "I was expecting our first baby and we moved to Wotton to be nearer my family. It has been a fantastic first year and we would like to thank all of our regular customers who have made us feel so welcome."
Both Emily and Nick have big plans for the future. Nick said: "Having recently gained maximum marks in Stroud District Council's new hygiene ratings was wonderful news. I make a point of using fresh ingredients in the kitchen and am exploring the possibilities of using more local suppliers. Our aim is to make this pub the best value for money in the area like we did at our last one."
Emily added: "We are also going to bring in more live music. There are several good bands in the area who deserve a wider coverage so, like the Blues band Able Mable who come from Bristol and who played at our anniversary celebration this evening, we are going to make it a regular event. My aim is to develop our website to give full information. But for now we are just going to celebrate and share with our customers the wonderful cake that our local deli Relish has supplied."
---
Did you know that you can contribute stories, articles, photographs, pictures, drawings, and poetry to this website?
Send us an email for more information. We'd love to hear from you!
Search for it!