Community Articles
---
Sheepscomb
Hello, I am Greg Moore from Imperial, California - USA.
---
My grandmother moved here to the USA somewhere around 1900 (approximately).
She was from Sheepscomb. As I understand it, Sheepscomb is only about 10 miles from your area. As such, perhaps you may be interested in this photo. It was in my family belongings which date back to the very early 1900's. The photo may be 100 years old then?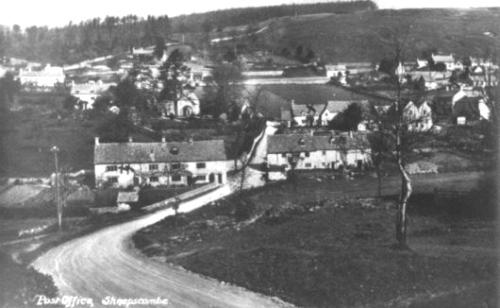 I wish I did have more information but with the death of my parents many years ago, all the information they had was lost. I do remember that some of my distant relatives had a bicycle shop and I think a hardware store in a town very near Sheepscomb. I also remember that my parents were able to find an old church nearby that my grandfather, or great grandfather did some of the stone carving. I even have a small stone from that church, but have no idea now where that church was located. It would be difficult, or impossible, for me to obtain any further information I'm afraid. I did have a photo of the old church, but I think my daughter has it? I also understand that he (my grand father, or more likely my great grand father) actually did from the lung disease that those old stone carvers often contracted from the stone dust they worked with.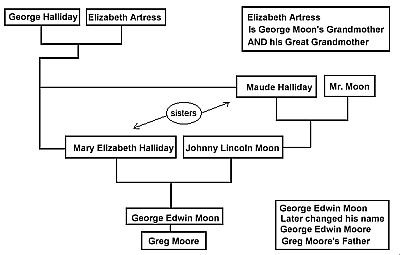 The only names I can remember in the chart. It might be of some interest to you to notice that my great grandmother and my great great grandmother were the very same person. (large smile) You will have to view the chart to figure that one out! What happened is that one of the ladies married her own nephew. Trace the chart up from both sides. My name is on the very bottom.
I did visit Sheepscomb in 1959, with my parents. I was serving in the US Army then,stationed in West Germany.
We visited some of my distant relatives there in Sheepscomb that owned a small bar (PUB). It was right in the middle as you drive into Sheepscomb - as I remember, but do not remember any of the names.
Perhaps there may be someone in that Sheepscomb area with the names of Artress or Halliday? It would be fantastic to actually make a connection again?
Just as a matter of sharing information with you, others of my ancestors came from Germany in the 1700's and from Scotland - also in the 1700's. I do have a web site showing my German ancestors, and I'm presently working on adding those from Scotland. As for me, I consider myself "English" since I'm pure 1/4 English that I know of.
Greg Moore gregandsheila@usinternet.com
583 Wild Rose Lane
Imperial, California 92251
U.S.A.