Community Articles
---
Awards Success for Wotton Performers
News Release, 2 July 2002
---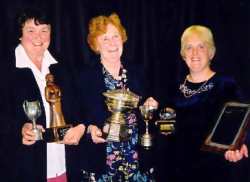 (L-R) Mary Downs, Marjorie Organ and Jane Parker clutching an array of awards at the Gloucestershire Drama Association's Annual Meeting at Churchdown on Saturday 29 June 2002
---
Wotton under Edge Dramatic Society members are well used to treading the boards - but last Saturday (29 June 2002) they swept them!
There were prizes galore for Wotton's actors and directors at this year's "Gloscars", the annual awards presented by the Gloucestershire Drama Association. The spring production Lettice and Lovage scooped three top awards.
Marjorie Organ collected Best Play and Best Director trophies. The Best Actress award went to Mary Downs for her 'wonderful' performance as Lettice Duffet while Jane Parker received a Best Supporting Actress nomination for her rôle of Lottie Schoen. "I 'm surprised and delighted to have won such a prestigious award" said Mary "and, with a play that depends on the interaction of both characters, I'm pleased Jane's contribution has also been recognised."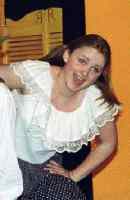 Elizabeth Rowden, Gloucestershire Young Actress of the Year, as Catastrophe Kate in the pantomime Tumbleweed Town
---
Backstage achievements for 'this extremely well done and very tricky three set production' were marked with a Best Technical nomination.
Success didn't stop there. Three more major awards went to the Christmas cowboy extravaganza Tumbleweed Town.
"It was a cold dark night and I was really down in the dumps" said adjudicator John Knowles, presenting the Best Panto award. "But within a quarter of an hour of curtain up on Jane Parker and Anthony Young's original show my spirit had been lifted and I felt a thousand times better!"
Radiating great fun and bringing the zest of life to her performance as "Catastrophe Kate", Elizabeth Rowden was honoured as the county's Best Young Actress.
The judges' most memorable "Champagne" moment, from all the productions they assessed over the entire year, came when Braddan Johnson as Wayne Rivers took the cast onto the floor to lead the audience in a rousing version of "Comin' Round the Mountain". Tumbleweed Town also gathered nominations for best production and best set.
Wotton under Edge Dramatic Society will be back in action in November with a family focused production to be directed by Jane Wallace. New members are always welcome as actors, directors or on the backstage team. Contact the Society's Secretary, Jean Dove, on 01453 521314 for more information.

Further Information:
Brian Gornall, Publicity Officer
01453 547233
---
Did you know that you can contribute stories, articles, photographs, pictures, drawings, and poetry to this website?
Send us an email for more information. We'd love to hear from you!
Search for it!