Community Articles
---
History Lesson for Golfers
Visitors to the recent Medieval Fayre at Wotton-under-Edge were treated to an historic golf match courtesy of the Wotton Dramatic Society.
---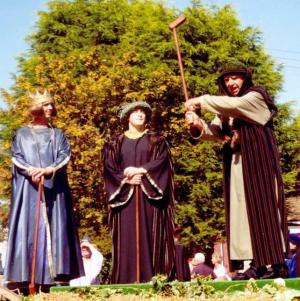 In it, King Richard II demonstrated that golf banditry was nothing new as he and his accomplice, the Earl of Oxford, took the unfortunate Mayor of York to the cleaners! The scene is just one part of Wotton Dramatic Society's production of Anthony Mingella's Two Planks and a Passion, which opens on Wednesday 22nd October at the refurbished Town Hall.
The Society went to great lengths to ensure authenticity in the golfing sequence. But Internet searches and even contact with the British Golf Museum in St Andrews couldn't produce a picture of medieval golf clubs. The answer turned out to be much closer to home. The Great East Crecy window in Gloucester Cathedral includes a stained glass roundel depicting a 14th-century golfer. The window was erected about 1350, forty years before the date at which the play is set.
The golf match is only one aspect of this highly original, often very funny and ultimately deeply moving play. Set in York in 1392, Two Planks and a Passion tells of a performance of the Mystery Plays, the high spot of the year for all involved. With the King in town, the burghers and dignitaries compete to impress the Royal Party at all costs. The young King meanwhile pursues his own agenda and in revenge for his treatment at Court, plots the humiliation of his hosts. It is left to the apprentices of the town to deliver the message of the Mystery cycle strongly, clearly and without gimmickry.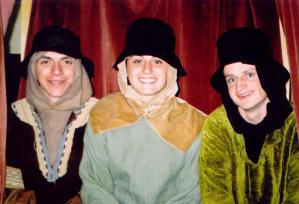 Two Planks and a Passion, directed by Madge Organ, will be performed in Wotton Town Hall from Wednesday 22nd to Saturday 25th October at 7.30 pm. Tickets priced £5 are on sale at the Cotswold Book Room, Long Street, Wotton, telephone 01453 843140.
Picture 1: (l-r) Tristan Holland as Richard II, Peter Bowden as Earl of Oxford and Brian Gornall as the Mayor, photographed at the Wotton Medieval Fayre.
Picture 2 : (l-r) The apprentices – Steven McCuaig, Becky Parslow, Andrew Perrett.

Further Information:
Brian Gornall, Publicity Officer
01453 547233
---
Did you know that you can contribute stories, articles, photographs, pictures, drawings, and poetry to this website?
Send us an email for more information. We'd love to hear from you!
Search for it!