Community Articles
---
New Year Resolution
Alpha offers the chance to explore the meaning of Life
---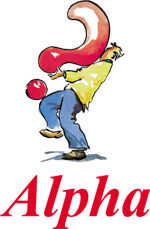 As Christmas fades and people lament all that excess yuletide consumption, thoughts turn naturally to New Year's resolutions. Giving up smoking, cutting down on booze or signing up for the Atkins diet are likely to be top of many people's priorities this January.
But if you think life might be about more than just eating and drinking, the latest Alpha course starting in Wotton on Monday 19 January offers the chance for a spiritual healthcheck this New Year.
The free 10-week course, which is supported by all the main Christian denominations, is an opportunity for anyone to explore the Christian faith in a relaxed, friendly setting, covering questions such as 'what is the point of life?', 'what happens when we die?' and 'what relevance does Jesus have for our lives?'
Course organisers Paul & Jan Herbert say: "For anyone who would like to discuss what life is really about, this course is ideal. Anyone is welcome to come along - there's no obligation, and the first couple of weeks are taster sessions where people can come and find out what it's all about.
"For anyone who can't make it this time, we'll also be running another course after Easter."
Alpha is for everyone, but especially:
Those wanting to investigate Christianity
New Christians
Those who want to brush up on the basics.
Anyone interested is invited to come along to 89 Pitman Place at 7pm on Monday 19 January or any Monday until 22 March. Further details are available on 01453 842657.
---
Did you know that you can contribute stories, articles, photographs, pictures, drawings, and poetry to this website?
Send us an email for more information. We'd love to hear from you!
Search for it!