Community Articles
---
Rose Hill Pupils Are Skilled For Life
Rose Hill School at Alderley near Wotton-under-Edge has adopted a new four-year progressive "life skills" learning programme, which will see its pupils become equipped with essential skills for life.
---
Last week saw pupils from Year 8 take part in the first termly tutorials which are designed to help pupils grow in self-esteem, enjoy greater self-awareness and improve interaction with others.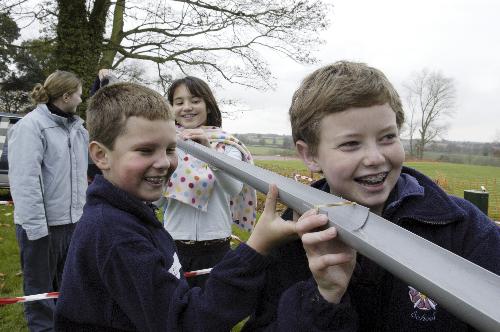 Reece Pope (left) and Oliver Sanderson are joined by Poppy Sturley in tackling a life skills challenge on a new continuous training programme adopted by Rose Hill School.
---
The independent preparatory school, which offers day and boarding school education for boys and girls from the ages of 2 ½ to 13, is the first in the region to adopt a continuous programme with the chosen training company, which specialises in the provision of lifeskills training for young people. Each year pupils will build their social skills with programmes whose subjects include listening, working with others, accepting responsibility and making decisions, self-awareness and self-esteem, team decision-making and dealing with change.
Every pupil will be able to take part in the programme from the ages of 9 to 13 years, with one day per term dedicated to learning life skills and additional adventure courses in the summer term with lessons learnt being reinforced by teaching staff.
Learning in small teams of no more than eight, Rose Hill's programme combines adventurous activities, problem solving exercises and exciting challenges, Pupils are awarded certificates for their achievements each year whilst observation sheets provide useful feedback for both the school and parents.
Parents were invited into the school in October for a demonstration of the programme and gave it their enthusiastic support.
"Here at Rose Hill School we are committed to giving every child the best possible start in life." explains Headmaster Peter Platts-Martin. "By the time our pupils are ready for senior school we want each to possess high self-esteem and to be happy, well-rounded confident young people, excited by all the possibilities that life has to offer.
"We believe that schooldays should be enjoyable, exciting and rewarding, yet that these early days are also the time for developing skills, habits and qualities that enable children to go on to achieve success, happiness and fulfilment in later life.
"We are proud to be one of the first schools to demonstrate our commitment to this philosophy by signing up to a continuous life skills programme that we believe will prepare our pupils extremely well for the wider world."
The Life Skills programme is the latest in a series of exciting changes taking place at Rose Hill School. The school has recently introduced a new senior management team, announced a number of new governor appointments with a wealth of experience and expertise in many disciplines, and has work underway on a new all-weather multi-sports pitch that will be officially opened in the new year.
Rose Hill School, Alderley, Wotton-under-Edge, Gloucestershire, GL12 7QT
Telephone: 01453 843196
www.rosehillschool.com
---
Did you know that you can contribute stories, articles, photographs, pictures, drawings, and poetry to this website?
Send us an email for more information. We'd love to hear from you!
Search for it!