Community Articles
---
All That Jazz!
Year 7 pupils from Rose Hill School at Alderley near Wotton-under-Edge recently had the opportunity to sample a new style of dance.
---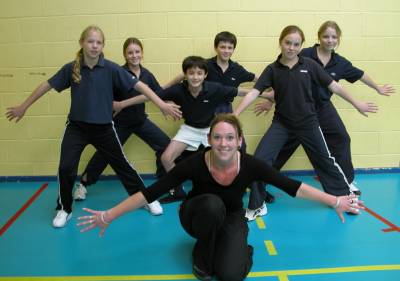 A teacher of Street Jazz, a style of urban dance, joined the PE lesson to give pupils a taste of a totally different style of dance and movement. Pupils were challenged to build on what they had learnt to create their own dance show as one of the school's entertainment evenings for parents.
The session was taken by a Bristol-based specialist from the dance company Wise Moves which teaches master classes in street jazz all over the country.
"Offering an all-round education is about making sure that the children get to enjoy new challenges and experiences," explains Heidi Bray, Rose Hill School's Director of Sport. "Street jazz is great fun, helping with posture, poise and relaxation in movement as well as being superb physical exercise.
"We are planning to include more dance within our gymnastics displays in the months ahead, adding new styles like Rock and Roll alongside modern jazz, tap and ballet."
Rose Hill School, Alderley, Wotton-under-Edge, Gloucestershire, GL12 7QT
Telephone: 01453 843196
www.rosehillschool.com
---
Did you know that you can contribute stories, articles, photographs, pictures, drawings, and poetry to this website?
Send us an email for more information. We'd love to hear from you!
Search for it!