Community Articles
---
Cotswold Voluntary Wardens at work for Wotton
The Cotswold Voluntary Wardens have been working in the Wotton area this week, and will be leading walks from Wotton during October.
---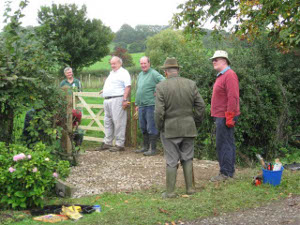 Tuesday, 5th October, the Voluntary Wardens installed a bridleway gate & spread hardcore around the area on behalf of Glos. Rights of Way. This work is to improve the ROW between Bearlands and Leys Farm. Work was completed in a morning, helped by refreshment and encouragement kindly provided by Mr King, the Landowner at Leys Farm.
Too often one hears of friction between landowners and walkers, so it's good to express our appreciation of all who were involved at Leys Farm.
The wardens are a group of volunteers, trained by staff of the Cotswolds AONB. They work primarily to encourage people to walk the Cotswolds and appreciate the area in which we live. This is achieved by warden-led walks, by individual wardens adopting a parish and patrolling its footpaths, and by work parties carrying out improvements as directed by the ROW officers at Shire Hall.
Cotswold AONB Wardens' Walks near Stroud : September & October
There are a number of warden-led walks coming up within easy reach of Stroud. There is no charge for joining the walks, though there is a box for a voluntary contribution towards materials for our work on footpath maintenance. Walks start at 10 am. & will return to the starting point. A packed lunch is advisable. Additional details are on the AONB website at www.cotswoldsaonb.org.uk/?page=GettingOut
Sunday, October 24th, from Wotton's Chipping car park to Waterley Bottom & Dursley Sculpture Trail.
6 hours, 10 miles.
Wednesday, Nov. 3rd Haresfield Beacon & Standish Wood. Meet at Cripplegate N.T. Car Park.
3 hours, 5 miles
Wednesday, Nov. 10th from the playing field, Hillesley, to Midger Wood Nature Reserve & Hawkesbury Upton.
5 hours, 9 miles
Sunday, Nov. 14th from S. Woodchester lay-by on A46 around the Nailsworth Valley.
3 hours, 6 miles
Wednesday, Nov.17th , from Painswick Golf Course walkers' car park to Spoonbed Valley & the Beacon.
3 hours, 6 miles
Sunday, Nov.28th , from Chipping car park, Wotton, to Newark Park & Ozleworth Bottom
6 hours,9 miles

More details can be found in the "Cotswold Lion" newspaper. There is a copy in local libraries.

---
Did you know that you can contribute stories, articles, photographs, pictures, drawings, and poetry to this website?
Send us an email for more information. We'd love to hear from you!
Search for it!