Community Articles
---
The taste of sunshine comes to Wotton
A new delicatessen business with a Mediterranean influence is opening in Long Street, Wotton-under-Edge at the end of this month.
---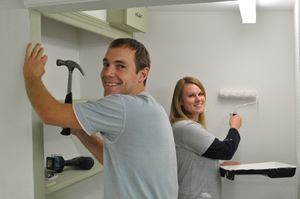 A new delicatessen business with a Mediterranean influence is opening in Long Street, Wotton-under-Edge at the end of October 2011.
The Cicada Deli owned and run by Kirsten Pratt and her partner Joe Compton comes as a result of the couple's long term love affair with good food and wine and a desire to run their own business.
Their aim is to sell the sort of food that can usually be found on holidays and which will remind their customers of warmth and sunshine. Even if the product itself comes from far away their aim is also to keep their suppliers as local as possible.
Kirsten, who has left a career as a solicitor in commercial property, said: "In my professional capacity I helped several businesses set themselves up in Wotton. Now we are doing it ourselves. We wanted to set up a local business in Wotton and stock it from suppliers across the South West. For example, we will have authentic French bread baked in Tewkesbury being delivered daily. Our cheeses will come from across the region as well as the continent. A supplier in Bristol will provide us a wide selection of fresh olives and tapas and yet our wild boar salami and rape seed oil will be from Gloucestershire."
Joe who carried out much of the building work himself in their new premises works in manufacturing at local employer Renishaw plc. He aims to continue his work and to support Kirsten whenever he can. He said: "We have been planning this venture for a long time. Kirsten and I grew up around here and our families are still here. We are really excited and look forward to serving our families, friends and everyone else. Our philosophy will be 'try before you buy' around a standard selection of items which will be generally available along with more exciting and specialist items which will vary from time to time. Regular tastings of wines, cheeses and other things should remove much of the myth and mystery around deli shopping and make it an enjoyable experience."
Wotton Chamber of Trade Vice President Jacqui Moore is delighted with the news. She said: "We are so used to hearing of business closures in Wotton that it is wonderful that a brand new business is starting up. We all wish Kirsten and Joe the best of luck."
The Cicada Deli is due to open on Monday 24th October.
---
Did you know that you can contribute stories, articles, photographs, pictures, drawings, and poetry to this website?
Send us an email for more information. We'd love to hear from you!
Search for it!